Naval Justice School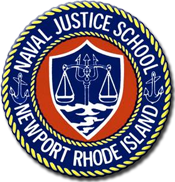 Since the establishment of the Naval Justice School (NJS) in 1946 at Port Hueneme, Calif., NJS has annually trained thousands of Department of Defense (DoD) personnel in all aspects of military law. In 1950, NJS moved to its present location in Newport, R.I. NJS currently provides accession-level and long-term legal training for all Navy, Marine Corps, and Coast Guard lawyers, enlisted legal professionals, active and reserve. In addition, NJS provides training for civilian personnel, sea service commanders, legal officers, senior enlisted, and others in the administration of military law.
Sea Service Legal Training
Mission
Train all Sea Service (Navy, Marine Corps and Coast Guard) judge advocates, and enlisted and civilian legal professionals to deliver quality legal services, promote justice, and enhance Sea Service fleet readiness.
Train Sea Service leaders and legal support personnel to perform their command and staff duties in accordance with United States and international laws.
Resources
View documents, course catalogs, schedules, and register for courses.